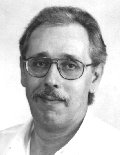 Tom Thomason was born on September 20, 1947 in St. Johnsbury, Vermont, USA. He grew up in France and Belgium, then moved back to the USA. He has been living in Sweden since 1969 and in Gothenburg since 1982, where he now runs a computer company. In his spare time he plays the guitar and arranges tunes.

Tom started playing the guitar in 1966 and traveled around Europe as a busker for a couple of years before moving to Sweden. He has worked as a guitar teacher and club musician since the early 70's and wrote tablatures for "Kicking Mule Records" (Stefan Grossman's record company) for almost five years. During that time, he had the privilege of meeting a number of the world's leading fingerpickers. His main influences are Stefan Grossman (of course), John Renbourn, Lasse Johansson, Marcel Dadi, Ton van Bergeyk, Chet Atkins and Merle Travis. To this you can add a number of the great names of country blues.

Tom plays a variety of music including ragtime, blues, early jazz (in the style of Chet Atkins and Merle Travis) as well as contemporary fingerpicking guitar. He has been arranging classic piano ragtime for the guitar for over 20 years. Some of his arrangements are now available on this ragtime site and on the TablEdit Home Page. More will be posted as Tom gets around to TablEditing them.