Swedish ragtimers at the annual meeting
of The Swedish Bunk Johnson Society
Review & pictures by Oleg Mezjuev.
In mid-November last year Claes Ringqvist sent a letter to Oleg Mezjuev, in which he presented himself as the president of The Swedish Bunk Johnson Society, and member of the traditional Sundsvall-based jazzband, Barfota Jazzmen. Claes had heard about Oleg's ragtime activities, and was keen to establish contact with Swedish ragtimers.
According to Claes, an annual meeting of The Swedish Bunk Johnson Society would be held at the Jazz Department (part of The Swedish Centre for Folk Song and Folk Music Research and Swedish Jazz History, called Svenskt visarkiv) in Stockholm on January 12, 2002. He generously invited the group of Swedish ragtimers to come there as guests, and suggested they make a 90 minutes ragtime presentation. His invitation was gratefully accepted!
The Swedish Bunk Johnson Society was founded in the mid-1980s, and has about 150 members from all over the world, half of which are Swedes. Many of them are fine and established jazz musicians and experts within the field. The annual meetings are normally being attended by fifty or so of its members.
The group of invited ragtime enthusiasts consisted of Sune "Sumpen" Borg (Norsborg), Peter Lundberg (Gothenburg), Oleg Mezjuev (Järfälla), Joakim Stenshäll (Stockholm), Peter Andersson (Spånga), Jürgen Schöbel (Uppsala), Jan Dahmén (Åkarp), Gustaf von Plomgren (Bromma), Lars Furuskär (Järfälla), and Karl-Erik Berg (Sundbyberg).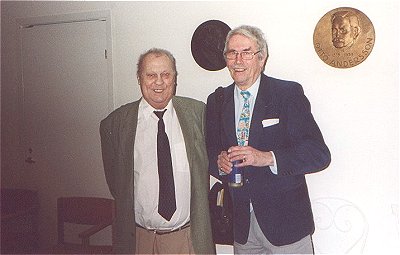 (Photo © 2002, Oleg Mezjuev)
Happy reunion between the Swedish ragtime pioneer, Sune "Sumpen" Borg and Lasse Mattsson, another fine piano player during the haydays of the schoolband jazz. The two have been very good friends since it all started in the late 1940s.
The annual meeting
As Oleg arrived to The Jazz Department at 4.30 p.m. on January the 12th, he was immedeately greated by Claes Ringqvist, who introduced him to Jens Lindgren (trombone player in the "Kustbandet", former host of a radio program called "Jesses Jazzbar", and chief of The Jazz Department), Per-Olof Karlström (the society's secretary), and the British Bunk Johnson historian/writer, Mike Hazeldine, who'd come from London to deliver a short talk on his newly written book on the subject, titled "Song of the Wanderer".
The other ragtimers arrived shortly thereafter, and for the first time ever the two ragtime legends, Sune "Sumpen" Borg and Peter Lundberg, met each other. Sune Borg had quit playing piano (due to a stroke in 1994), but for this occasion he brought with him a brief-case with some 50 copies of his own CD and a few LPs, intending to sell them at the meeting. Peter Lundberg had come to Stockholm all the way from Gothenburg, and although he'd spent six hours on a bus, he seemed as energetic as always. Joakim Stenshäll and Peter Andersson linked up soon, ready to put on a ragtime show for a very knowledgable public.
The meeting started with mingling at 5 p.m., which gave everyone a fine opportunity to meet the other guests and members of the society (a total of 71 people), and time to explore The Jazz Department. Among the members who were there (besides those mentioned above) were also Gunnar Harding (poet & book writer), Nils-Gunnar Anderby (jazz expert), Jan Lorentzon (known from the Swedish television), Lars "Sumpen" Sundbom (cornettist and former member of the "Sumpens Swingsters"), Joakim Falk (cornettist in the Spicy Advice Ragtime Band) and his girlfriend Cissi Larsson (singer and clarinettist in the same band), Jocke's father Bengt "Bim" Ingelstam (sousaphonist in the "Barfota Jazzmen"), Lars Tidholm (pianist in the Jesse's New Orleans Band), Antonia Benson (pianist in the "Antonias Harmony Serenaders"), Trygve Hernæs (Norwegian music publisher from the Sonor Records AS, Trondheim), Bo Scherman (owner of the Skivfynd Jazz & Blues record shop in Stockholm), Lasse Mattsson (former pianist in the "Black Bottom Stompers", today an article writer for the "Tradjazzpulsen" magazine), and many others.


At 5:30 p.m. Claes Ringqvist proceded with the formalities, assisted by Per-Olof Karlström and Björn Bärnheim. The latter two presented economic accounts for the past year, which was followed up by Claes reading greeting messages from society members, who were unable to attend the meeting this year (such as Sam Charters, Orange Kellin, Eberhard Kraut, and about 30 others).
The ragtime concert
At 6 p.m. the stage was set for ragtime music. Oleg Mezjuev opened the show with a brief presentation on the history of ragtime by telling about Scott Joplin, James Scott, Joseph Lamb and the others, about the various styles of ragtime, about the Swedish ragtime club that existed in Stockholm in 1914, about the ragtime bible "They All Played Ragtime", about the famous movie "The Sting", and the ragtime revival that followed it in the 70s.
The presentation was intespersed with questions and comments from the public, and Oleg's ragtime colleagues. Lasse Mattsson mentioned Scott Joplin's opera "Treemonisha", while Nils-Gunnar Anderby wanted to know if it is available on video. Oleg took the opportunity to tell everyone that the Swedish ragtime pioneer, Sune "Sumpen" Borg was also there, and Sune told that he had a few CDs and LPs with him, that he would be happy to sell to anyone who might be interested.


After the presentation, Peter Lundberg (marked as (PL) below) put a copy of a ragtime score in front of him, and began to play. The other performers were Oleg Mezjuev (OM), Joakim Stenshäll (JS), and Peter Andersson (PA). The show included fifteen ragtime numbers, which were:
Classic rags & Jelly Roll Morton

Harlem Rag (Tom Turpin, 1897) - (PL)
A Tennessee Tantalizer (Charles H. Hunter, 1900) - (OM)
Gladiolus Rag (Scott Joplin, 1907) - (PA)
Grace and Beauty (James Scott, 1909) - (JS)
Bert Williams (Jelly Roll Morton, c. 1911 cop. 1948) - (PL)
American Beauty Rag (Joseph Lamb, 1913) - (JS)
Blame It on the Blues (Charles L. Cooke, 1914) - (OM)
Pastime Rag #4 (Artie Matthews, 1920) - (PL)
King Porter Stomp (Jelly Roll Morton, 1924) - (JS)


Swedish & contemporary rags

One for Amelia (Max Morath, 1964) - (OM)
Hippocampus Two-Step (Peter Lundberg, 1964) - (PL)
Kreole (David Thomas Roberts, 1978) - (PA)
Nygatan Stomp (Joakim Stenshäll, 1977-82) - (JS)
For Joani Holmes (Brian Keenan, 1996) - (OM)
The Beauty and the Beast (Peter Andersson, 1996-2001) - (PA)

The concert was a great success, and almost everyone agreed that it was the highlight of the meeting! Lasse Mattsson listened carefully to the performance, and tried to write down the ragtime titles for an upcoming article in "Tradjazzpulsen" (Nr. 2, 2002) about the Bunk Johnson meeting.
Cajun food, jam session etc.
As the ragtime show came to its end at 7.30 p.m. everyone transferred themselves to the kitchen to have some cajun food. The menue consisted of jambalaya (made by Anders Alm), and Per Oldaeus' delicious red beans and rice. There was also plenty of beer and wine.



The rest of the evening included lots of various events. At 8:45 p.m. Mike Hazeldine made a short talk on the subject of Bunk Johnson, and presented his latest findings concerning Bunk's life (he told an exhaustive story about Bunk's teeth, about Bill Russell, and so on). Mike's presentation was followed up at 9 p.m. by a quiz (on the subject "the jazz streets of New Orleans"), which was organized by Jan Lorentzon.
At 10 p.m. a record auction (held by Per-Olof Karlström) took place in the foyer. Many rare recordings by Bunk Johnson, George Lewis, and other artists, were sold for about 200 SEK. Meanwhile, a happy Sune "Sumpen" Borg was busy signing his ragtime CDs, enjoying the fuss around him.



The final event of the meeting was a jam session (supervised by Christer Fellers), which took place in the meeting-room and started at 10.15 p.m. Peter Lundberg found himself at home playing with such fine jazz musicians as Ola Pålsson (trumpet), Tom Pauli (trombone), Håkan Rosenqvist (banjo), and Joakim Falk (cornet). They played lots of New Orleans standards and other jazz numbers. The jam session was still in its earnest, and went on for another while after the ragtimers had left The Jazz Department at about 11 p.m.