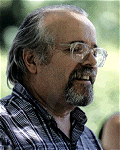 Ezequiel Pallejá was born in Buenos Aires, on August 25, 1943. He is married with Maria and has two children, Lourdes and Francisco. He's a well-known engineer in geodesy and geophysics, and works as a professor at the University of Buenos Aires. He belongs to the International Association of Geodesy, and has also won a Canadian technical award.

Musically gifted, he studied piano with his mother as a child, and took lessons from German professor Klaus Kavjolski later on. He also studied clarinet with professor Travnik in 1968. Ezequiel has been a fan of New Orleans Jazz since 1958, when he heard a 78-rpm record of "Alligator Crawl" and "Willy the Weeper", by "Louis Armstrong and his Hot Seven".

By the age of 16 he led his own band, the "Tiempos Viejos Jazz Band", featuring New Orleans style of the 1920's. Since then he's participated in most of the Argentine jazz bands, always within the traditional jazz idiom, as a piano player and also as a clarinetist. He's played with the "Antigua Jazz Band", the "Eureka Jazz Band", the "Roseland Jazz Band", the "Juramento St. Band", and now with the "Fenix Jazz Band". Every Saturday night, from March to December, they play at the Café Tortoni in Buenos Aires.

He loves New Orleans Jazz as much as he loves ragtime, a genre he has been fond of from the very first days as a pianist. Each time he gets an opportunity to insert a ragtime solo (or duo, or trio) within a jazz show, he does not hesitate of doing so.

Ezequiel began to make MIDI music a few years ago. His activity as a ragtime composer is also new, although he has composed some jazz stomps of his own in the past. And he has just finished writing a little book on ragtime, "Me gusta el Rag porque...", and is now in the process of editing it. He has also recorded some CDs with ragtime music, which perhaps one day he will be able to commercialize.