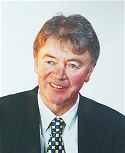 Classically trained, Colm "Stride" O'Brien, (a resident of Listowel, Ireland) specialises in the fields of Ragtime, Stride Piano and Musicals. Since 1990, he has played a series of 20 Solo Concerts in the National Concert Hall Dublin including 3 Performances there this year. He has played extensively on the Concert stage in Canada and the United States, where he recorded his CD "Scott Joplin, Gershwin, Fats Waller & All That". His playing of Scott Joplin Ragtime, recorded in Dublin, has received a lot of airplay on Irish TV & Radio. He is the only Irishman to be invited to play at the prestigious Scott Joplin Festival in Sedalia Missouri, where he has received 3 invitations in 90, 95 & 96.

In Ireland, he has played at many venues including regular appearances at the Cork Jazz Festival. In 2002 he received an AIMS award as Best Musical Director for his show "Jesus Christ Superstar". He has appeared twice on the Late Late Show and performed with Mary Coughlan and Paddy Cole in the NCH Dublin.

In addition to his Piano career, Colm is also Director of the Listowel Singers, winners of many awards, who have the unique honour of appearing twice on the RTE Late Late Show. The Singers sang High Mass in St. Peterís Basilica Rome, sang at a private audience with the Pope and performed a number of Concerts during a Tour of Rome. The Listowel Singers also sang the prestigious Irish Concert in St. Patrickís Cathedral, New York City.