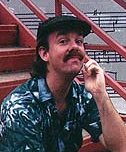 Tom McDermott was born in St. Louis, Missouri on September 24, 1957. He soaked up that town's ragtime heritage, learning dozens of rags and issuing an LP of originals ("New Rags", Stomp Off Records, 1982). After earning a Master's Degree in music from Washington University and working two years for the morning paper as a jazz and rock critic, McDermott headed downriver in 1984 to New Orleans.

In Louisiana, he has explored the styles of New Orleans masters like Jelly Roll Morton, Professor Longhair and James Booker. As a soloist he is in demand as one of the few pianists in town comfortable with the Crescent City's traditional jazz and R&B styles.

In 1990, Tom joined the renowned group, the Dukes of Dixieland. The early '90s edition of the Dukes is considered by many to be the finest since the death of the founding Assunto brothers in the 1970s. During Tom's residency with the group, it has played Carnegie Hall, toured Germany, Denmark, Peru, Japan, and much of America, and recorded four CDs. The second of these, "A Salute To Jelly Roll Morton", featured legendary guitarist Danny Barker, and a host of McDermott arrangements. Tom has also arranged for the "Dirty Dozen Brass Band" and for the movies (the 1991 "He Said, She Said"). In 1994 he co-founded the "New Orleans Nightcrawlers", a modern brass band; he is the executive producer and one of the arrangers on their debut album on the Rounder Records label.