Internationella göteborgare
bjöd på ljuvlig entertainment
Ragtime-mötet i Bromma
tonal och "sällskaplig" femetta
Referat av Lasse Mattsson.
Ur Tradjazzpulsen (nr. 7, 2005).
Bilder av Oleg Mezjuev.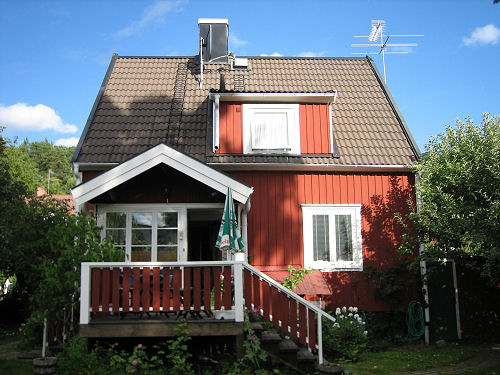 I år var de tillbaka, det svenska ragtime-pianots röster i världen (särskilt USA): Göteborgs Peter Lundberg och Kjell Waltman. Efter mässfall till följd av biltrassel i fjol satte de nu ånyo sina rosor i rag-debatten.
Pulsen har tidigare klargjort begreppet "returnyheter" i tidningar: händelser som egentligen bara angår de närvarande - symötet i byns kyrkolokal, kafferepet hos biskopinnan. Och egentligen Bunk-sällskapets årsmöte i januari och sensommarens ragtime-träff.
Men ...
Trivseln och den strålande musiken (vid båda dessa evenemang) måste bara förmedlas till Pulsen-läsarna, även om texten delvis blir densamma år från år. Vilket "nykomlingarna" (och litteraturdoktorerna) Sonja och Conny Svensson ledde i bevis för en något generad LM - de hade dennes tidigare rag-rapporter framkörda ur hemdatorn.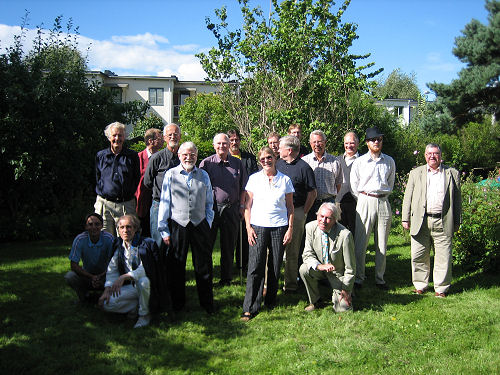 (Foto © 2005, Oleg Mezjuev)
Gruppbilden föreställer (stående från vänster till höger): Gustaf von Plomgren, Conny Svensson, Ragnar Hellspong, Rolf Donnerfelt, Jürgen Schöbel, Joakim Stenshäll, Lena Sandegren, Peter Lundberg, Peter Arner, Leif Appelgren, Bo Esselius, Lars Furuskär, Peter Andersson och Nils Gunnar Anderby. Sittande (från vänster till höger): Oleg Mezjuev, Kjell Waltman och Lasse Matsson. Fotografen vid tillfället var Sonja Svensson.

Nå, vi rätar på ryggen. Tar oss samman.
Som vanligt hade gurun Oleg Mezjuev samlat skarorna hemma hos Gustaf von Plomgren och Lena Sandegren i deras charmiga Brommavilla, likaledes som vanligt i solgass över lummiga fruktträd ute och med den perfekt vårdade pianolan som centrum inne. En pianola är alltså ett "självspelande piano", som i värdfolkets fall inte bara kan ställas om till två olika system för pianorullar utan även är fullt spelbar för exekutörer. Vilka i detta gäng kan "allting" utantill, även om de läser noter a prima vista om så skulle krävas; ragtime är noterad musik, att spelas som "det står".
Därtill kom de nu strömmande den 27 augusti från när och fjärran (ja, Göteborg var fjärmast), våra briljanta pianister och deras fans.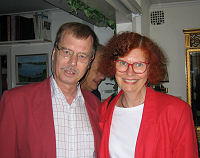 Tror ni att musiken handhas med djupt allvar, under tystnad bland rynkande lyssnarpannor, där pianisterna avlöser varandra med "Maple Leaf Rag" och slikt, år efter år, tar ni gravt miste. Här rådde jubel, här sjöngs det till eget eller andras komp, här flöt snacket både före och efter brandskattningen av värdfolkets "kolde bord".
Oleg kom t ex med fotoförstoringar som gick laget runt. T ex en av William "Bill" Bailey med maka, tagen ur volymen "They all played ragtime", 4:e upplagan. Ja, just han som ombads "come home". Även om hustruns min inte antydde något önskemål i titelns anda. Hon såg ut som Fridolfs "Selma lilla".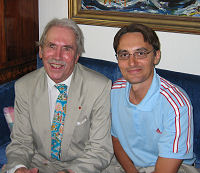 Hr gurun hade också bilder efter den omskrivna lägenhetsbranden (ett dödsoffer) på Rissneleden 57 norr om Stckholm. Varför det? Jo, länge bodde Jocke Falk och Cissi Larsson, Spicy Advice Ragtime Band, på bottenvåningen i huset, i lägenheten under den ödelagda men var nu utflyttade. Gudskelov.
Annan kuriosa: en göteborgare som inte var med i år var Hans Brodén, Foggy Bottom Classic Jazz Band. Hur exklusiva skäl får man ha för ett uteblivande? Jo, Hans' dotter har just kommit hem från några år i Kanada, där hon har inköpt ett par islandshästar. Snälla pappa tillbringade helgen med att leta efter något stuteri eller annan stallplats inför kusarnas hemfärd. Gustaf äger drygt 400 pianorullar, givetvis mycket ragtime från förra sekelskiftet av och med de stora men också t ex en rulle, inspelad i London, där Gunnar Wennerberg framför några av sina egna "Gluntarne". Vadå historia.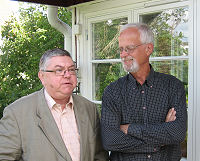 När LM ställde en undring om varför "Weary Blues" fordom hade haft "Shake it and break it" som sidotitel, visste dr Jürgen Schöbel, Uppsala (vi upprepar: släkt med Elmer Schoebel, New Orleans Rhythm Kings) besked: i originaltexten till "Weary Blues" fanns orden med.
En annan "nykomling", kornettisten, FTV-aren och Krypto-lösaren Rolf Donnerfelt, gjorde även han stora ögon.

När göteborgarna drog igång sin underhållning, steg temperaturen. Här kom vaudeville-nummer från amerikanska inbördeskriget, sjungna av Kjell till Peters komp. Kjell drog en stride/ragtime-version av Sousas "Liberty Bell", den som Monty Python-gänget slaktat med att ha den som signatur. Roligast var kanske Kjell i den totalknasiga "I'm certainly living a ragtime life" från 1900: "I've got a ragtime dog and a ragtime cat/a ragtime car and a ragtime flat ... I've got ragtime troubles with my wife/I'm certainly living a ragtime life!".
Apropå "Weary Blues" kunde Kjell W berätta att kompositören Artie Matthews minsann inte bara hade "skrivit låten", han hade också startat ett konservatorium för idel svarta elever i Cincinnati.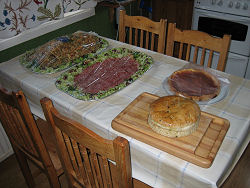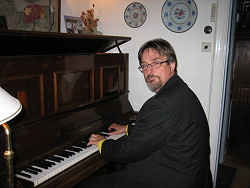 Med stolthet, enbart tack vare Oleg Mezjuev, kan Pulsen publicera "hela listan" av det vi fick höra.
Här är exekutörerna (värden Gustaf (GvP) bjöd på rullmusik): Joakim Stenshäll (JS), Kjell Waltman (KW), Oleg Mezjuev (OM), Peter Andersson (PA - kantor, sedvanligt illröd i håret men numera med hästsvansen avklippt), Peter Lundberg (PL), Ragnar Hellspong (RH).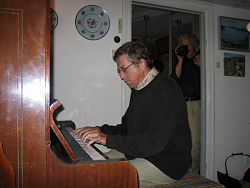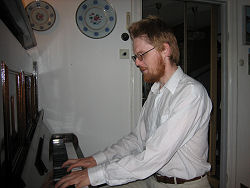 GvP: "Magnetic Rag" (Joplin, 1914), "The Entertainer" (Joplin, 1902). RH: "The Darkey Todalo" (Joe Jordan, 1910), JS: "State and Madison" (J R Morton, 1926), OM: "Pine Apple Rag" (Joplin, 1908), PL: "St Louis Rag" (Turpin, 1903), KW: "I'm certainly Living a ragtime life" (Jefferson & Roberts, 1900).
RH: "Odeon" (Nazareth, 1910), PA: "Teddy Bear Rag" (egen, 1990), "Sugar Cane" (Joplin, 1908), OM: "Brun Campbell Express" (Tom Shea, 1964), PL + KW (vo): "Frog went a walking", "Mister Johnson, turn me loose" (Harney, 1896), KW: "The Liberty Bell" (Sousa, 1893), "Weary Blues" (Matthews, 1915).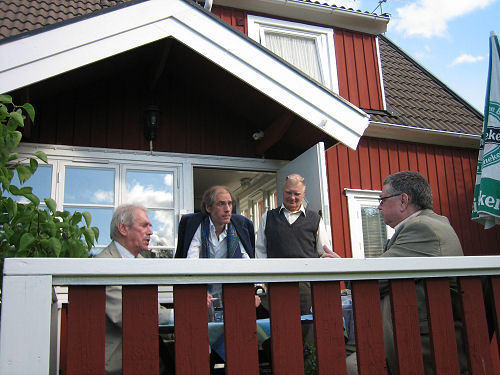 JS (även vo): "Willie the Weeper" (Melrose, Rymal & Bloom, 1920), "Chicago Breakdown/Stratford Hunch" (Morton, 1926), KW: "John Barleycorn, goodbye" (John Stark, 1919), "You've got to kick my dog around" (Carrie Bruggeman, pseudonym Cy Perkins, 1906 ca), PL + KW: "Ballin' the Jack" (Smith-Burris 1913 - LM hoppade beskäftigt in ett par chorus sedan visst harmonitrassel uppstått i versen).
RH: "Bird-Brain Rag" (J Lamb, 1959), OM: "Kinklets" (Marhsall, 1906), GvP "The Wabash Blues" (Meinken, rulle med Fats Waller), "Black and White Rag" (Botsford, 1908), "The Darktown Strutters' Ball" (Brooks, 1917 - RH och JS sjöng till rullen av hjärtans lust), Basin' Street Blues"Williams, 1926, JS (+ pianorulle, samtidigt!): "Mr Jelly Lord" (Morton, 1923). JS: "Pastime Rag #4, #3, #2" (Artie Matthews 1920, 1916 resp 1913).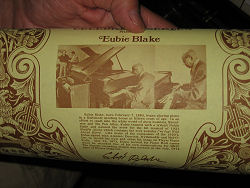 OM: "Sensation - A Rag" (Lamb, 1908), " A Tennesse Tantalizer", "Cotton Bolls", "Back to Life" (alla Ch Hunter, 1900, 1901 resp 1905), PL: "Possum and 'taters", "Tickled to death" (båda Hunter, 1900 resp 1899), "Jungle Time" (E Ph Severin, 1909), KW (+vo); "I think an awful lot of you", "You just can't get it where it ain't", "Lovin' Joe", "Brother-'N-Law Dan", "Ain't misbehavin'", "Les yeux créoles" (Creole eyes - Louis Moreau Gottschalk, 1859).
JS (+ vo): "Buddy Bolden Blues" (Morton), PL: "Bert Williams" (Pacific Rag, Morton, publ 1948), "The Perfect Rag" (Sporting House Rag - Morton, publ 1949), KW + PL (fyrh): "My Creole Belle" (Lampe, 1900), KW: "Cloud Berries" (egen, 1993), "St Louis Blues" (Handy, 1914), "Winin' Boy Blues" (Morton, 1940).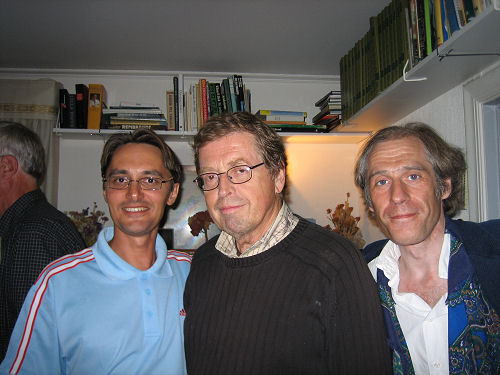 OM: "Blame it on the blues" (Ch L Cooke, 1914), "Eugenia" (Joplin, 1905), PL: "Peacherine Rag" (Joplin, 1901), KW: "Solace - A Mexican Serenade" (Joplin, 1909), "Ape Man" (J Blythe, 1926), "Miss Samantha's wedding day" (Tony Jackson), "Pretty Baby" (Jackson & Egbert Van Alstyne, text: Gus Kahn 1916).
PL: "High Society" (Melrose-Steele, 1904), GvP: "Merry Widow Rag" (Eubie Blake, 1973), OM: The Darkey Todalo" (Joe Jordan, 1910), "Odeon" (Nazareth, 1910), GvP: "Frösöblomster, op 16" (av/med Wilhelm Peterson-Berger, 1896-1914), PA: "The River Boat Slow Drag" (egen, 1986).
LM (reviderat av OM)
(med varmt tack till Oleg Mezjuev och givetvis alla ragtimekamraterna)
PS Har ni orkat igenom "hela listan", anar ni att det finns mer än "Blåsningen" och "Maple Leaf Rag" här i världen. Och The Mississippi Rag (vår "Pressgranne 2") innehåller i varje nummer ca en och en halv A3-sida intervju av David Reffkin med någon ragtimepisnist, grundad på ett av hans radioprogram med densamme (Waltman & Lundberg har figurerat där, Kjell W till och med som omslagspojke). Och ragtimefestivalerna är legio i USA, gärna med göteborgsparet samt norske Morten Gunnar Larsen, med eller utan hans Ophelia Ragtime Orhestra, som ärade gäster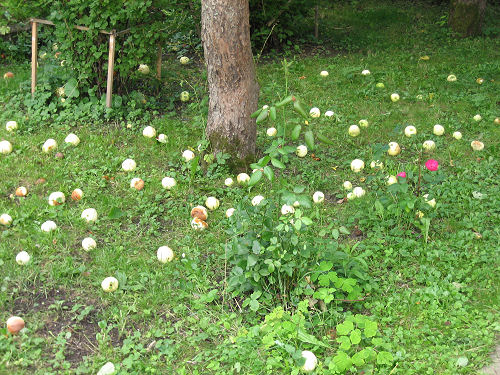 ---
Komplett spelprogram från ragtimeträffen

Peter Lundberg

St. Louis Rag (Tom Turpin, 1903)
Possum and 'Taters (Charles Hunter, 1900)
Tickled to Death (Charles Hunter, 1899)
Jungle Time (E. Philip Severin, 1909)
Bert Williams urspr. kallad Pacific Rag (Jelly Roll Morton, publ. 1948)
The Perfect Rag även kallad Sporting House Rag (Jelly Roll Morton, publ. 1949)
Peacherine Rag (Scott Joplin, 1901)
High Society (Walter Melrose & Porter Steele, 1904)

Peter Lundberg & Kjell Waltman

Frog Went A Walking (trad)
- med sång av Kjell Waltman
Mister Johnson, Turn Me Loose (Ben Harney, 1896)
- med sång
Ballin' The Jack (Chris Smith, 1913; text av James Burris)
- med sång av Kjell Waltman, samt fyrhändigt
My Creole Belle (J. Bodewalt Lampe, 1900)
- fyrhändigt

Kjell Waltman

I'm Certainly Living A Ragtime Life (Gene Jefferson & Robert S. Roberts, 1900)
The Liberty Bell (John Philip Sousa, 1893)
- först en bit av originalet sedan i ragtimeversion
Weary Blues (Artie Matthews, 1915)
John Barleycorn Goodbye (Text och musik av John Stark, 1919)
You've Got To Kick My Dog Around (Carrie Bruggeman, under pseudonymen Cy Perkins, ca 1906)
I Think an Awful Lot of You (Joe Jordan, 1907; text av Alfred Anderson)
- med sång
You Just Can't Get It Where It Ain't (Joe Jordan, text musik)
- med sång
Lovin' Joe (Joe Jordan, text will marion cook 1910)
- med sång
Brother-'N-Law Dan (Joe Jordan, text och musik, 1922)
- med sång
Ain't Misbehavin' (Thomas "Fats" Waller, 1929)
- med sång
Les yeux créoles - Danse Cubaine (Creole Eyes), Op. 37, RO185 (Louis Moreau Gottschalk, 1859)
Cloud Berries (Kjell Waltman, 1993)
St. Louis Blues (William Christopher Handy, 1914)
Winin' Boy Blues (Jelly Roll Morton, 1940)
- med sång
Solace - A Mexican Serenade (Scott Joplin, 1909)
Ape Man (Jimmy Blythe, 1926)
Miss Samantha's Wedding Day (Tony Jackson)
Pretty Baby (Tony Jackson & Egbert Van Alstyne, 1916; text av Gus Kahn)

Kjell Waltman & Lasse Mattsson


Ballin' The Jack (Chris Smith, 1913; text av James Burris)
- fyrhändigt

Peter Andersson

Teddy Bear Rag (Peter Andersson, 1990)
Sugar Cane (Scott Joplin, 1908)
The River Boat Slow Drag (Peter Andersson, 1986)

Ragnar Hellspong

The Darkey Todalo (Joe Jordan, 1910)
Odeon (Ernesto Nazareth, 1910)
Bird-Brain Rag (Joseph Lamb, 1959)

Oleg Mezjuev

Pine Apple Rag (Scott Joplin, 1908)
Brun Campbell Express (Tom Shea, 1964)
Kinklets (Arthur Marshall, 1906)
Sensation - A Rag (Joseph Lamb, 1908)
A Tennessee Tantalizer (Charles Hunter, 1900)
Cotton Bolls (Charles Hunter, 1901)
Back to Life (Charles Hunter, 1905)
Blame It on the Blues (Charles L. Cooke, 1914)
Eugenia (Scott Joplin, 1905)
The Darkey Todalo (Joe Jordan, 1910)
Odeon (Ernesto Nazareth, 1910)

Joakim Stenshäll

State and Madison - A Busy Stomp (Jelly Roll Morton, 1926)
Willie The Weeper (Walter Melrose, Grant V. Rymal & Marty Bloom, 1920)
Chicago Breakdown/Stratford Hunch (Jelly Roll Morton, 1926)
Mr. Jelly Lord (Jelly Roll Morton, 1923)
- JS + Pianorulle
Pastime Rag #4 (Artie Matthews, 1920)
Pastime Rag #3 (Artie Matthews, 1916)
Pastime Rag #2 (Artiw Matthews, 1913)
Buddy Bolden Blues (Jelly Roll Morton, insp. 1938)
- med sång

Gustaf von Plomgren (pianorullar)

Magnetic Rag (Scott Joplin, 1914)
The Entertainer (Scott Joplin, 1902)
The Wabash Blues (Fred Meinken, 1921; text av Dave Ringle)
Black & White Rag (George Botsford, 1908)
The Darktown Strutters' Ball (Shelton Brooks, 1917)
- med sång av Ragnar Hellspong och Joakim Stenshäll
Basin' Street Blues (Text & musik: Spencer Williams, 1926)
Merry Widow Rag (Eubie Blake, 1973)
Frösöblomster, Op. 16 (Wilhelm Peterson-Berger, 1896-1914)