At a Swedish Rag Meeting
Review by Oleg Mezjuev.
Pictures by Ulla Kruse.
The first Swedish ragtime meeting was held on August 20 this year in Bromma (near Stockholm) at the home of Ragnar Hellspong, the host of this informal event. It was organized by Oleg Mezjuev, with Peter Andersson as co-organizer. An invitation had been sent out to fourteen ragtime enthusiasts (composers, pianists and ragtime fans), and eleven of them were able to come.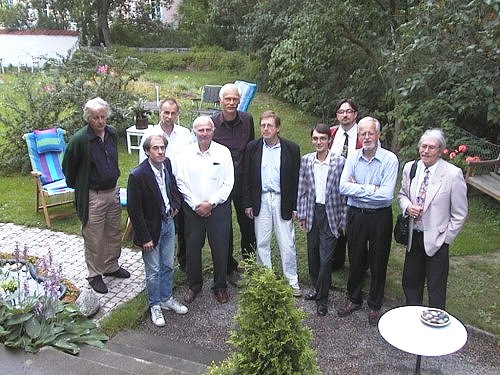 (Photo © 2000, Ulla Kruse)
Participants of the ragtime meeting (from left to right): Gustaf von Plomgren, Kjell Waltman, Kimo Viklund, Jürgen Schöbel, Jan Dahmén, Peter Lundberg, Oleg Mezjuev, Joakim Stenshäll, Ragnar Hellspong and Lasse Mattsson. Peter Andersson is missing, as he joined the meeting one hour later.
Participants and arrangements
The list of participants included composers Ragnar Hellspong, Joakim Stenshäll, Oleg Mezjuev and Peter Andersson (all from Stockholm), Peter Lundberg and Kjell Waltman (both from Gothenburg), and Kimo Viklund from Söderköping. Among the ragtime fans there were Jan Dahmén (Åkarp), Jürgen Schöbel from Uppsala (related to the famous jazz musician Elmer Schoebel), and Gustaf von Plomgren (Stockholm). Also invited was the 70-years old pianist Lasse "Jelly Roll" Mattsson (Stockholm), a well-known musician, who's played with various jazzbands during the New Orleans revival in the 40's and 50's.
Among those who couldn't come was the Swedish ragtime pioneer Sune "Sumpen" Borg, who made his first ragtime recordings way back in 1949! Although unable to attend the meeting himself, he wished everyone a very pleasant afternoon.
Ragnar's arrangements for the get-together were superb! The food consisted of Russian pasties with mincemeat sauce, fennel salad, three sorts of home-made bread, and a cake called "kladdkaka" with lemon ice-cream. Everything but the cake was made by Ragnar himself. Drinks included cider and beer, several sorts of fruits were also available.
Ragtime meeting - part 1
The time was set to 1 p.m. Sunday, August 20. As everyone arrived we all gathered in the garden outside the house, where the first group pictures were taken by Ragnar's wife Ulla. After a short conversation between the participants, Ragnar invited everyone inside the house to start our meeting off with a ragtime quiz.
This was a brilliant idea! The quiz consisted of fifteen questions, to which Ragnar played excerpts from various ragtime MIDI files, while we had to tell their titles and/or the names of their composers. Joakim Stenshäll and Kjell Waltman got maximum 21 points, and a tie-breaking question was arranged to decide a winner. They were told that the next tune was the first rag written by its composer. The tune that was played was "Caprice Rag" by James P. Johnson. Our own ragtime expert Kjell "Eubie" Waltman (his middle name is actually Hubert) knew the right answers, and won the first prize - a bottle of red wine! It was said that the rest of us could console ourselves by sharing the second place behind him...
Peter Lundberg started the show by playing the first strain of "Swipesy Cake Walk" (Scott Joplin & Arthur Marshall). He was replaced by Kjell Waltman, who played the B-section. They went on like this through the whole piece, cheered by an enthusiastic public. Later they played another duet, "That Teasin' Rag" by Joe Jordan. Accompanied by Peter Lundberg Kjell Waltman also sang "Moving Day" (Andrew B. Sterling & Harry Von Tilzer), a number which was very well received by everyone!
Peter Andersson joined the meeting at about 2 p.m., wearing a straw hat. He focused on Swedish (and Russian!) compositions. Among the pieces he played were "Assassination Rag" (Oleg Mezjuev), "Rag's Rag" (Ragnar Hellspong) and "Smorgasbord Rag" (Peter Lundberg), plus "Zymurgy Rag" by contemporary composer Robin Frost.
Oleg Mezjuev's repertoire consisted of classic and contemporary rags like "Troubadour Rag" (James Scott), "Cotton Bolls" (Charles Hunter), "Jinx Rag" (Lucian P. Gibson; arr. Artie Matthews), "Roberto Clemente" (David Thomas Roberts) and "The Golden Hours" (Max Morath).
Peter Lundberg paid a tribute to Joseph Lamb by playing "American Beauty Rag", "Ragtime Nightingale" and a couple of sections from "Rapid-Transit - Slow Drag". He also played "Snowy Morning Blues" (James P. Johnson), his own "Gothenburg Rag", and a wonderful cakewalk with the ugly title "Nigger Alley" (George D. Andrews; arr. John H. Hughes).
Joakim Stenshäll (a.k.a. Jake Stonehell) was wearing a check vest, and played the role of a ragtime professor. He sang "A Drunkard's Ode", a 19th century ballade to which he had written the music. He continued with Jelly Roll Morton's "King Porter Stomp" and "Pastime Rag nr. 3" by Artie Matthews. Peter Lundberg picked up the idea and played the tango-like "Pastime Rag nr. 5", which was followed up by "Pastime Rag nr. 4" played by Kjell Waltman.
Kjell Waltman's piano solos were all highly entertaining. He did numbers like "Charleston Rag" (Eubie Blake), "Forth Worth Blues" (Euday Bowman), "Pork and Beans" and "The Junk Man Rag" (Charles L. Roberts), plus two Jimmy Yancey compositions, "How Long Blues" and "Yancey Stomp".
Ragnar Hellspong came up to play his newly composed "Snowball Rag". In addition he played "Ain't Missbehavin'" (Fats Waller), plus "Honky Tonk Train Blues" and "Answer to the Prayer" by Meade Lux Lewis.
Kimo Viklund brought with him an audio tape containing his own "Ramunder Rag", which he played for us. The recording was made by a brass sextet, and reminded of the sound of a good old cakewalk.
Lasse Mattsson contributed to the show with "Fermology", a Swedish rag written ca 1946 by his friend Olav Fermelin. He then shook the earth's foundation by his memorable performance of "Don't Let It Bother You" (Mack Gordon & Harry Revel), a piece which has been recorded by Fats Waller.
Part of the meeting was spent on various discussions, for example about a ragtime club, which we know existed in Stockholm as early as in 1914! Several of the participants expressed a desire about organizing a Swedish ragtime society. We also agreed that this meeting should not be the last one. Afterwards Peter Lundberg proposed that perhaps the next get-together should be organized in Gothenburg, an idea which sounds very interesting!
Some of the participants exchanged sheet music, audio cassettes and compact discs, and above all, we all made new friends! After the meeting Peter Lundberg made a very kind gesture by sending a copy of "Rapid-Transit - Slow Drag" by Joseph Lamb to all of us, even to those who were unable to come!
Ragtime meeting - part 2
The second part of the meeting was held at the house of Gustaf von Plomgren, who also lives in Bromma, not far from Ragnar's home. Gustaf owns a well-tuned pianola from 1914, an unusual mixed 65/88-notes model. He invited us to come to his place to listen to some of his numerous ragtime piano rolls.
At about 6 p.m. everyone but Lasse Mattsson was assembled in his house. The list of piano rolls played for us by Gustaf included two arrangements from ARTCRAFT Music Rolls cut by L. Douglas Henderson, the "Lion Tamer Rag" (Mark Janza; arr. Mark Lutton) and "Poverty Gulch" (Max Morath). He continued with "Ragtime Medley (Fig Leaf Rag & Sensation Rag)" (Scott Joplin & Joseph Lamb), Scott Joplin's "Weeping Willow", "Solace - A Mexican Serenade", "Scott Joplin's New Rag" and Max Morath's version of "The Entertainer", "Charleston Rag" (Eubie Blake), Jelly Roll Morton's "King Porter Stomp" and "Black Bottom Stomp", a boogie called "Honky Tonk", a rhapsody by Franz Liszt, and a piano roll version of "Duelling Banjos" from the motion picture "Deliverance".
After listening to a few piano rolls Peter Lundberg and Kjell Waltman thanked everybody for a wonderful day, and commenced a 5-hours trip back home to Gothenburg. The rest of us stayed for another couple of hours.
In addition to Gustaf's piano rolls we also played a few rags live. Ragnar Hellspong and Joakim Stenshäll played two different versions of "Jelly Roll Blues" (Jelly Roll Morton). Joakim then played another gem by Jelly Roll, the "Kansas City Stomp", and continued with two of his own compositions, "Nygatan Stomp" and the newly composed "Camel Face Rag", a wonderful rag influenced by Joseph Lamb and Jelly Roll Morton.
Peter Andersson played "Calliope Rag" (James Scott & Bob Darch). Oleg Mezjuev filled in with "Blame It On The Blues" (Charles L. Cooke), "Haunting Rag" (Julius Lenzberg), "That Hindu Rag" (George L. Cobb), "Odéon" (Ernesto Nazareth) and "North Star" (Brian Keenan). The ragtime show came to its end at 8.30 p.m. as he played the last chord of "Waiting for the Zenith" by Jack Rummel.
Selected pictures: