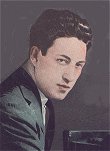 Roy Frederick Bargy was born in Newaygo, Michigan on July 31, 1894 but grew up in Toledo, Ohio. When he was five years old, he started taking piano lessons which lasted until he was 17. Aspiring to the concert stage, he soon realized that unless he could study in Europe he wouldn't be able to break into the tight classical music world in America. The musical Establishement until after the second world war didn't permit American artists access to the concert halls and operatic stages unless they had extensive training abroad. Rebuffed from his chosen career, Roy hung around the District in Toledo listening to such black pianists as Johnny Walters and Luckey Roberts. Like many another teenage prodigy, he soon got jobs playing piano and organ after school at the local movie houses. For school dances he organized his own orchestra.

Bargy's first professional break came in 1919 when he auditioned for manager Charley Straight at the Imperial Player Rolls company. He began by recording his own piano novelties and arranging popular songs. He was chosen by Imperial to challenge QRS's new star of novelty piano, Zez Confrey, who had a similiar background in the classics and who a year earlier began to create syncopated novelties. While Roy was hired to compete with Confrey, he was in no way imitating him, and although his compositions didn't meet the fantastic popularity Confrey's did, they were equal in inventiveness.

In 1920, while working for Imperial, Straight introduced Roy to Edgar Benson, a booking agent who had formed a band to record for the Victor Talking Machine Company. Benson was impressed with Roy's musicianship and hired him as pianist, arranger and musical director of the dance orchestra. The Victor recordings established Bargy as a triple-threat talent and provided him with the means to secure his services in similiar capacities for such distinguished dance bands as those led by composer-saxophonist Isham Jones and then finally began a twelve-year association with the greatest dance orchestra, Paul Whiteman's, in 1928. Roy spent a couple of year with Lanny Ross on radio and then became Jimmy Durante's musical director in 1943. Both Jimmy and Roy retired in 1963 with Roy spending most of his time playing golf, a sport also enjoyed by Zez Confrey. Roy died at his home in Vista, California on January 16, 1974.